Welcome back to Workout Wednesday!
Grab a button and link up to the party!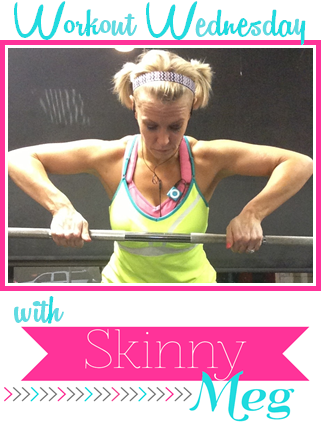 Thanks to everyone for linking up last week, here are a few you should check out if you haven't already:
Katie shared how she
kicks ass on her lunch breaks
, I may need to hop on this train after baby depending on how much sleep I'm getting :) Great tips!
Today I put together a little upper body workout designed to be short and sweet. In my world that means you need to go heavier! So if you are using 8's grab you some 12's. I used some 15's, 20's, and 25's. Challenge yourself, the point is to do as many reps as you can, its not timed and it's not a race. Focus on what you are doing.
SHRUGS:
LAYING REAR DELT RAISE
SEATED RAISE
OVERHEAD PRESS:
WEIGHTED BENCH PRESS: UH, SHOULD SAY DIP :)
You don't have to have your feet up, but it does make it harder, just sayin'
BENCH PRESS: ARMS IN CLOSE, SUPER HEAVY!
CONCENTRATION CURLS: SUPER HEAVY RESTING ARM ON THIGH
REAL BOY PUSH UPS: EVEN IF YOU CAN ONLY DO 1!!
We also did about 15 minutes of legs to round out our workout
Love my 5 am girls!
Happy 14 weeks :)
Let's see what y'all got for me today and remember tomorrow's food linkup is all about lunches!