Welcome back to Workout Wednesday!
Grab a button and link up to the party!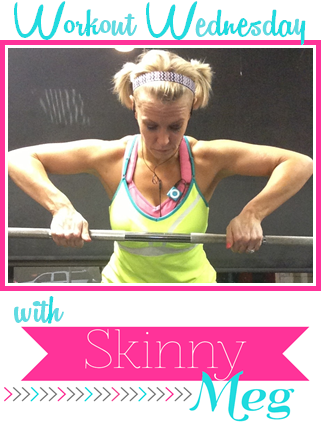 As I was reading through the entries for last week I came across a post on
Newlywed Greggs
where she talked about being discouraged. She was eating right, killing it at the gym, and not losing a pound. I can totally relate to this so I thought I would just reiterate some of the things that helped me past rough times like this.
1. Food. Probably a good bet that you are not eating enough, or enough of the right things. I encourage the use of a heart rate monitor, like my
Polar FT4 Heart Rate Monitor (Purple/Pink)
. Perfect example, this morning all my teachers were back in the gym so we worked out together.
One of the other girls wearing her watch burned 200 more calories than I did, you need to know your burn so you can fuel correctly. I suggest starting out that you eat back half your workout calories.
Figure out how many calories you need, I need to eat at least 1850 sometimes more depending on my workouts. Here's
a post I did
on how to figure out how many you need.
2. Cardio doesn't equal skinny. More cardio is not the answer, but its what most women go to when they want to drop a few. The main reason I do Workout Wednesdays is to give you guys options, I do something different almost every time I go to the gym. That's what keeps me going and keeps me motivated, trying new things. I've been hitting the gym at least 5 days a week now for years and I'm not bored yet!
3. Cleanse. I'm a big lover of the
Advocare cleanse
, the first time I did it I was stuck at 220 and it helped me get past that hurdle and I've been a believer ever since. For 32 bucks and 10 days of effort it's well worth it to help reset your body and get you back on track.
Ok, now on to the workout for today. It's a quick cardio blaster with a weight bench, but only using your body weight.
I really should start recording the videos BEFORE I kick my own ass at the gym, maybe I'll look less like death warmed over ;)