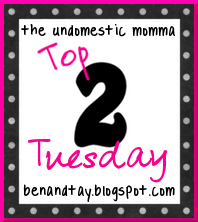 I'm feeling depressed from all the math homework I've been doing, so I decided to join a new party and have some fun before bedtime!

Check out The Undomestic Momma for more party people.

My absolute favorite beauty product is with out a doubt is Big Sexy Hair ~ Root Pump Plus. I have flat, boring, and did I say flat

, hair! I know many many girls are chained to their flat irons, but I want big beautiful sexy volume. This product helps get me there!





My second favorite product is actually new to me from an AWESOME friend who feeds my beauty product addiction. :) It's
Too Faced~ Lash Light Mascara
. Sounds cheesy, but it has a light in the top that shines on your lashes and a mirror on the bottom so you don't have to bend over the entire sink counter and get your shirt wet! Plus if the power goes out I can still rock some mascara. Just sayin'.
Miss M is ready for summer in her swimsuit. I was nice and blew up a pool for her just in time for her to take a nap. It was a big pool.