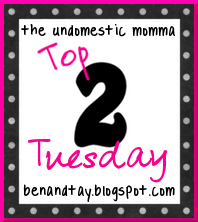 Top 2 items under $15.
I have a secret. I am addicted to chewing gum. My favorite is Extra because the flavor lasts longer and I'm sorry to say the I am a chomper. It's just so gooooooood

! It drives my Hubs batty and he will get a piece and chomp it in my ear. So mature :)
My second is the reusable shopping bags from Home Goods! I LOVE LOVE LOVE

these bags because they are huge, pretty, and only a $1. When I go grocery shopping these are a lifesaver because I would much rather lug in 2 of these then 40 plastic bags. Oh, plus it is good for the Earth and all.
Miss Madison had decided to stick out her tongue when I say 'smile!'. I'd really like to know who is teaching her this stuff!!
Check out Undomestic Momma to join in the fun!