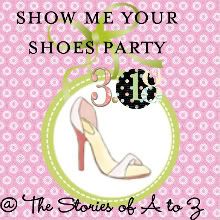 Finally
SPRING
is here!! Well, I guess we still have 2 more days, but my feet couldn't wait for a spring pedicure. SO MUCH BETTER.
Pretty huh? These are my FAVORITE shoes, they combine my favorite things: zebra print, crowns, and rhinestones!
These are new from Target (my favorite store!) for 10 bucks! Deal!
Can you tell I love comfort? I love these because they remind me of my trip to Paris in the springtime. No vacation will ever compare!
Bought them, wore them once, not sure why I keep them. Cute, but impractical for my life!
My favorite winter flat because when I wear them with pants they make my feet look like cute presents!
Love 'em, but they require me to
beg
my husband to pull them off at night.
My most worn shoes. I work out 5 days a week so I get my money's worth out of them!
The 'shoes' I put on as soon as I get home everyday! They were a Christmas gift and
I LOVE THEM
!!